FTM Brokers

Broker Information
Jurisdiction:

Belarus

Regulators:

National Bank of the Republic of Belarus

Founded:

2004
FTM Brokers Quick reference
Back in 2004, the Forexline consulting firm from Belarus offered services for accepting bets on the Forex market in a truncated Spread Betting format. In 2016, a decree regulating work on the OTC Forex market came into force in the Republic of Belarus. After that, the brokerage firm FTM Brokers LLC was registered. It entered the register of Forex companies and received a certificate from the state regulator - the National Bank of Belarus.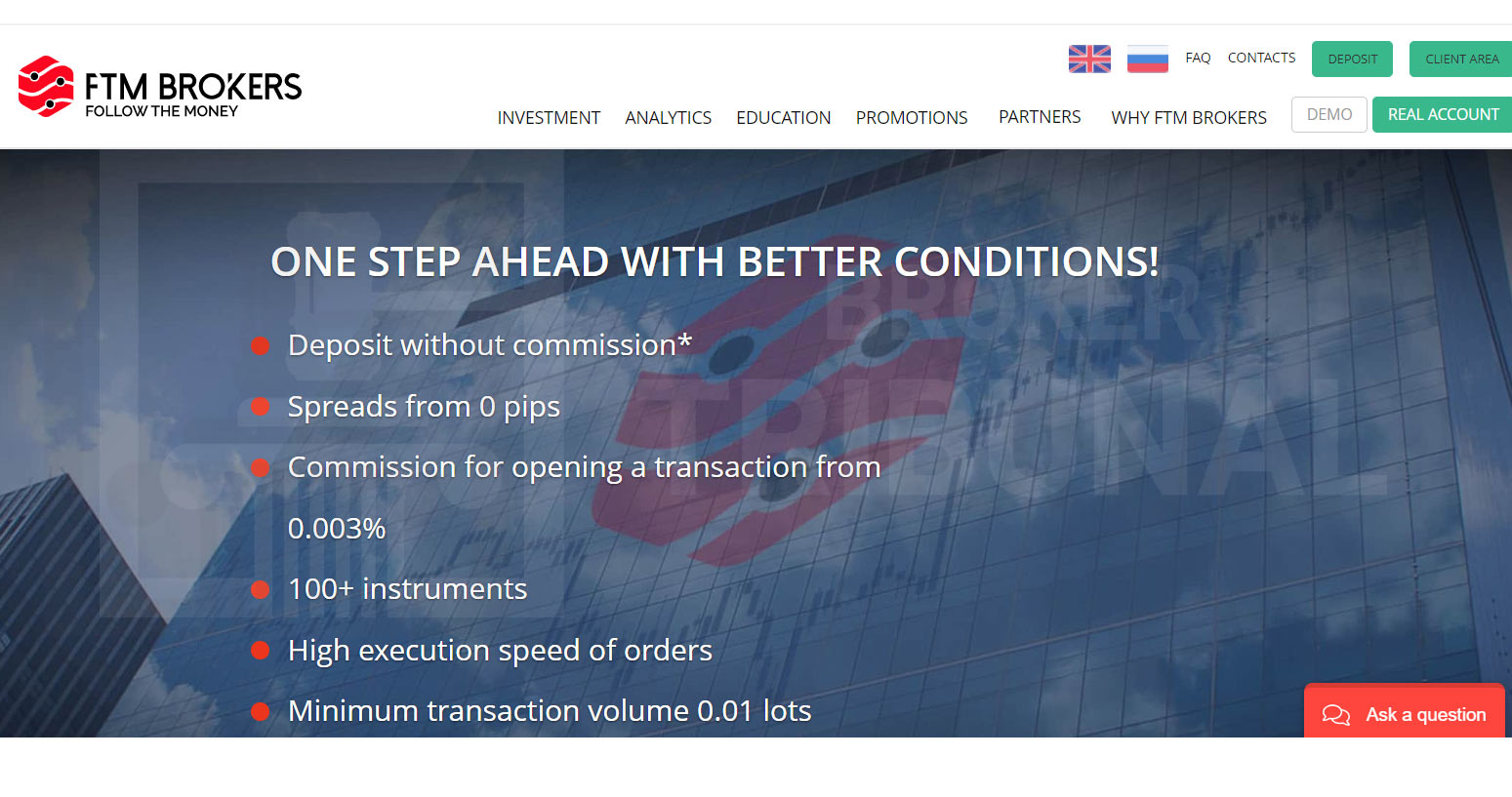 For communication you can use the office address in Minsk, email, as well as telephone numbers +375 29 608-06-86 and +375 29 808-06-86.
Personal account with FTM Brokers
Through the personal account you get access to all services of the company. To register, you need to fill out a fairly standard form.
Full name,
e-mail,
country,
phone number.
And then a rare feature: you will need to choose one of the types of accounts right at the registration stage. While for most brokers, the type of account depends mainly on the amount of the deposit.
You do not have to choose a currency: all calculations are made exclusively in US dollars.
An identification procedure will also be required. Residents of Belarus can come with documents to any branch of BPS-Sberbank. For foreigners, a remote procedure is provided: you will need to attach scans of your passport - pages with a photo and marks about the place of residence. If it differs from the actual one, then you should add a lease agreement or utility bills indicating the address. And also attach photo portraits with a clearly visible face and a passport next to it.
Trading instruments and platforms with FTM Brokers
More than 70 tools are offered, including:
currency,
oil,
precious metals,
stock indices.
There is only one trading platform option available: MetaTrader4.
FTM Brokers trading accounts
The company recommends that you start your acquaintance with the platform with a free demo account, which will allow you to get comfortable with the software without risks to real money.
Three accounts are provided for real trading. You choose one not by the size of the deposit, but by the terms of trade.
FTM.COMFORT has a fixed spread. The maximum leverage is 1:200, the minimum spread is 2. The stop out level is 30%. A full range of trading instruments is available in all types of accounts.
FTM.STANDARD with floating spreads. The maximum leverage is similar, spreads are from 0.9. Stop out level is 40%. This account type has a minimum margin of 200.
FTM.PRO with market spreads. Leverage is also up to 1:200. Stop out level is 50%. Spreads are from zero. Margin is from 1000.
Account replenishment and withdrawal of funds with FTM Brokers
There are plenty of ways to deposit money:
You can deposit cash, through the branches of Alfa-Bank and ASB Belarusbank. There is no commission, the crediting period is from 1 hour for the first bank and 1-3 days for the second.
Account replenishment is also possible with the help of VISA Bank card, MasterCard and local BELKART. Commission is 1.5% of the transfer amount, instant crediting.
You can deposit funds using Bank payment. The amount of commissions must be clarified with the selected financial institution.
Belarusian SIM card holders can pay using their mobile phones. Transfers in Belarusian rubles and conversion into dollars are at the expense of the client.
You can replenish your account via Webmoney with instant crediting and commission from the payment system.
You can use QIWI wallet - but it is only for non-residents of the Republic of Belarus. The payment system will charge a commission. Transfers are possible only in rubles, conversion is also at the expense of the sender.
There is only one way to withdraw money from FTM Brokers - through a bank payment to your current account. Transfer is only in dollars.
Commissions of financial institutions within Belarus are 0.1%, but not less than 1.5 USD and not more than 6 USD.
For an international money transfer, the commission is 0.15% of the amount of the transfer, while not less than 25 and not more than 150 dollars. Plus, an additional commission for withdrawal can be taken by the receiving bank. International transfer takes at least 2 banking days.
Conclusion about FTM Brokers
Legal work is a definite plus. But for traders living outside of Belarus, using the services of this broker is difficult and expensive. What is only withdrawal of funds exclusively by bank transfer, for a period of several days and with a commission of more than $ 25.