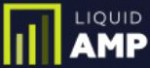 Liquid AMP

Broker Information
Jurisdiction:

Cyprus

Regulators:

CySEC, IFSC, FSC

Founded:

2017
Liquid AMP Quick reference
Liquid AMP is a CFD broker that delivers quotes for currency pairs, metals, stocks, commodities, indices, ETFs, cryptocurrencies.
Liquid AMP lists its advantages:
processing of orders takes 24 ms,
leverage is 1: 500,
120 instruments for analysis,
withdrawal of funds occurs within a day,
support is provided 24/7.
Have you traded with Liquid AMP? Are the parameters listed above correct? Share your opinion in your feedback, which you can post at the bottom of this page.
Liquid AMP summary
Date of foundation. The broker has provided its origin story on the website liquidamp.com. According to it, the brand has existed since 2017. In the first three months the broker got 50,000 clients. In 2018, Liquid AMP is said to have been internationally recognized. In 2019, the broker reached the amount of 180,000 traders and in 2020 the company began to expand its staff.
Location. Liquid AMP was registered in Cyprus, which is a member of the EU. The broker was registered at 21 Alkistidos, Nicosia District, Cyprus. The company does not give its number in the register and does not show an extract from it.
The broker's staff allegedly works there in Cyprus.
Contacts. To contact support, you need to call + (357) 2 644080 (Cyprus code) or write to support@liquidamp.com.
Regulation. The broker convinces potential clients that it is regulated from three sides. CySEC allegedly issued a license to the broker under the number 134/40, IFSC - under the number 10/197 / TS / 12, FSC - under the number C101379197. It is impossible to take a look at scanned copies of these licenses.
Terminal. Liquid AMP has created a trading platform of the same name. He convinces that money and data are safely stored there.
Liquid AMP trading terms
Liquid AMP offers three steps to start trading:
Pass the registration.
Make a deposit (if you are 100% confident in the company).
Choose an instrument and conduct the first transaction.
The broker has developed three accounts for traders with different sizes of the wallets. Silver requires a deposit of $ 150 or more. A trader can count on 1:20 leverage and instant execution.
Gold account costs $ 1,000. The broker claims that it provides 1: 500 leverage, instant execution, cryptocurrency trading and deposit insurance.
Platinum traders have to cough up $ 10,000. But they are promised a 1: 500 leverage, instant execution, cryptocurrency trading, insurance and protection of deposits, 24/7 personal support.
The broker selectively publishes news on economic topics on its website. Calendar and free signals are not provided. There are also no educational materials. However, Liquid AMP has published the contract specifications.
Feedbacks about Liquid AMP
BrokerTribunal forms the rating of financial companies. To participate, please tell your opinion about Liquid AMP. How many stars will you give this broker? 5 or 1? Share your experience of interacting with the broker and your final result.