Biz Corner Quick reference
Biz Corner is an investment project created by the type of earnings on the Internet for simple tasks. Which country is regulates this broker, when, where and by whom the company is registered - the information remains unclear.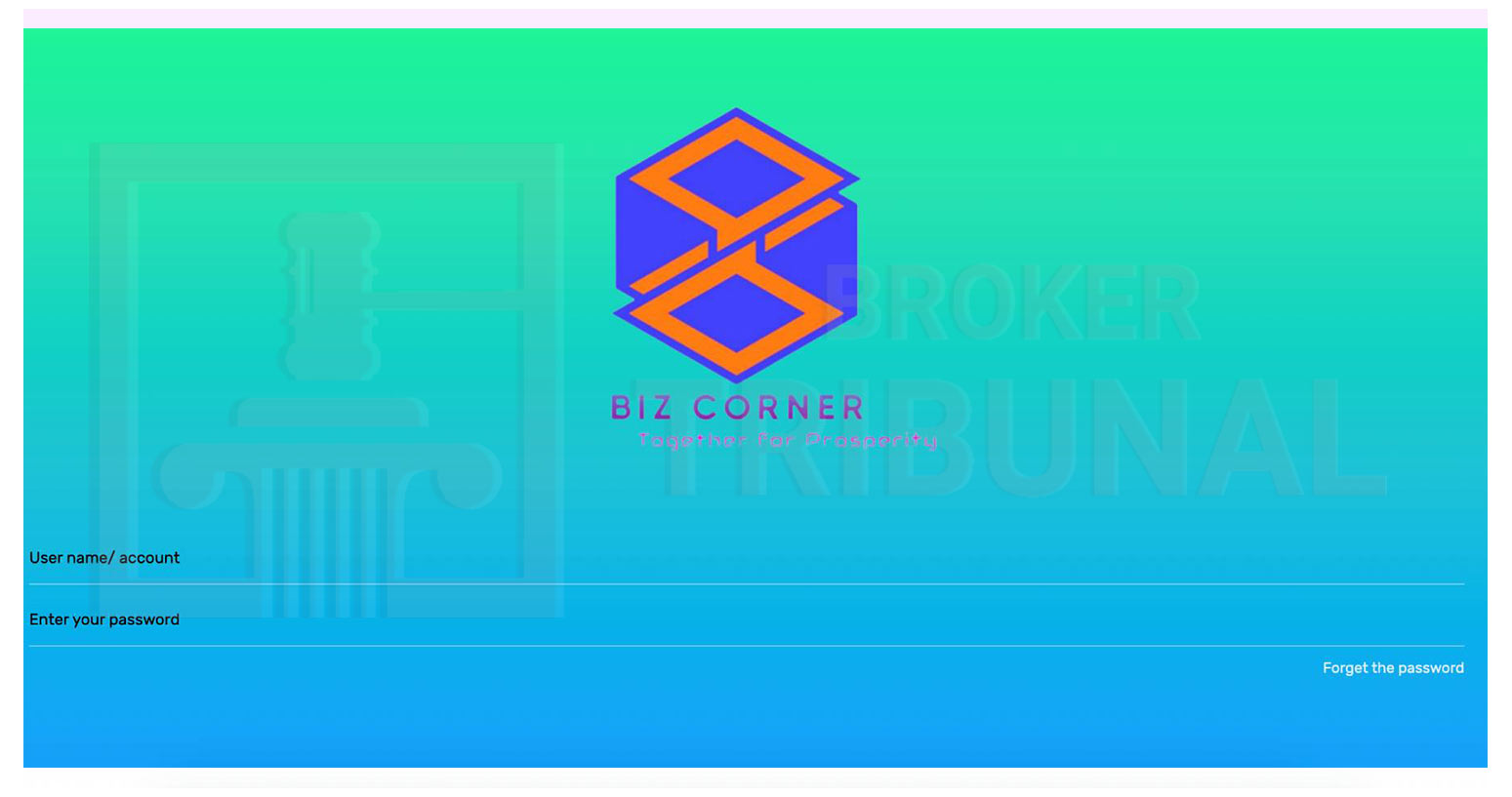 If we take a look at the project from the point of view of an ordinary user who suddenly saw its website, then it's impossible to find out information about the project. You can learn what kind of project it is only from friends who will direct you to this project.
It is impossible to find out from the website what kind of project, what payments, what types of accounts, what are the minimum investments, at what percentage, the minimum withdrawal amount, withdrawal methods, support service - the information is not indicated.
When you go to the website, you see an authorization page where it is required to enter the username and password. But, when you click on the phrase "forgot password", you see the @Customerserviceofmarketing support telegram account. How the support service works on the site is also unknown.
It is also not clear how the broker plans to accrue income, whether there are any guarantees and so on.
However, if the Biz Corner is a closed project, it means that you can get to it exclusively through a referral link or a code that must be entered at the time of registration.
As for contact details, they are not indicated, except for a link to support service.
Biz Corner investment offers
This project, just like the similar ones, was created in the image and likeness of investment projects, where registration is made exclusively with the help of code and referral link. This means that you can invite friends to this project and receive a monetary reward for each invited user.
As for earnings, everything is arranged here in the traditional way: a user registered on the site needs to do simple tasks every day, which appear daily in his/her personal account. Cash rewards are credited for each completed task.
After reaching a certain amount (according to the terms of the company), you can withdraw funds in a convenient way, which is available on the platform.
It also means completing tasks in greater numbers and for greater rewards. To do this, Biz Corner offers to invest certain funds to purchase investment accounts that allow you to perform more tasks for more money.
You may not invest in the project, but as practice shows, users choose to purchase accounts in order to earn more.
Registration and login to your personal account with Biz Corner
To get an access to Biz Corner you need to enter data for authorization. Then you need to undergo the registration.
Registration on the site is made with the help of invitation code.
Account replenishment and withdrawal of funds with Biz Corner
As for the replenishment of the account and the withdrawal of funds, there is no information about this on Biz Corner. All information will be available to the user after registration. The available methods of withdrawal of funds are indicated on the account.
Conclusion
Biz Corner is an investment project created to make money on the Internet for completing simple tasks. When a user goes to the website, he/she sees a standard authorization page. And by clicking on "forgot password", the user gets to the telegram channel of the support service. Registration is made with the help of invitation code.
All information about the creation of the project, payment methods, commissions, minimum deposit and withdrawal of funds, terms of withdrawal, investment accounts and other information is not available for an unregistered user.
It is an individual decision whether the project can be trusted or not. But it is important to understand that any HYIP project with hidden information is a risk.