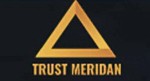 Trust Meridan

Broker Information
Jurisdiction:

Jurisdiction Cyprus

Regulators:

CySEC

Founded:

2020
Trust Meridan Quick reference
The company announces about entering the market in 2017, but in fact, until mid-2020, its activities on the Internet were not highlighted or conducted in any way.
It was declared about registration in Cyprus and getting three licenses:
Cyprus Securities and Exchange Commission,
Financial Services Commission of Mauritius,
Belize International Financial Services Commission.
The last two documents can only be valid on the territory of Mauritius and Belize respectively. As for the CySEC document, the company did not publish it on the official website. You can rest assured that in reality it is very difficult to obtain such a license. And all the companies that succeed in this, with a feeling of legitimate pride, prominently post this license. There is clearly something wrong here.
There is poor information on contacts too: one e-mail and phone number + (357) 27 594080. The site is presented in 7 languages, including Russian. There are no separate numbers for technical support in different languages and operator work schedules.
Trust Meridan trading instruments and terminals
The list of assets is quite extensive:
currency pairs,
precious metals,
shares,
indices,
commodity group,
cryptocurrency.
The site has a table with information on the minimum lot size and leverage for each type of asset. For the majority of people, they are 0.01 lot and 1: 500, respectively.
The platform here is exclusively its own. The website visitors are not informed about the details of its technical characteristics, they are not shown in the public domain. Lack of choice and such secrecy is another bad signal.
Trust Meridan trading accounts
Three accounts are offered. Moreover, the minimum deposit is as much as 5 thousand US dollars. Such appetites can be understood and forgiven if we talk about fully regulated European brokers, aimed mainly at working with legal entities and completely within a legal framework. But there is no excuse for this sham of a broker.
The "Initial" account, available from these very 5 thousand USD, sneeringly informs about the availability even with a small deposit. They promise to open a "professional" account with investments of 50 thousand or more.
For insanely high deposits clients are promised to increase the leverage from 1:20 to 1: 500, remove swaps even on non-Islamic accounts, provide an opportunity to work through PAMM accounts, provide a personal manager and in some unknown way insure deposits.
Account replenishment and withdrawal of funds with Trust Meridan
On the main page, among the advantages of cooperation, it is stated that payments are processed here quickly and without commissions. This, in fact, is the only information in the public domain. For any other details you will have to write, call or immediately register your Trust Meridan account. And it is without the ability to assess in advance how comfortable you are with its payment channels, limits and other conditions for conducting transactions.
The user agreement is poorly informative, and it is not easy to read it. Not only is it presented exclusively in English - it will also not be possible to use automatic services to translate certain terms. After all, the text of the agreement was laid out in the form of pictures, so that fragments of the document cannot be copied and are not ranked by search engines. This is another unpleasant sign. Decent brokers have nothing to hide their documents from and make them difficult for people to read.
Conclusion
The company is very suspicious, it simply lies about licensing. At the same time, it dares to demand a minimum deposit of 5 thousand dollars. We recommend choosing brokers with a more adequate entry threshold and after an independent expert consultation.